Hello hello! I'm Darren, a research coordinator at the Subject Matter Lab, and I've been working with the team since 2019.
What's your role in the Subject Matter Lab?
I run a clinical trial looking at how virtual group programs can improve depression symptoms in people with chronic pain. The two programs are:
Sahaj Samadhi Meditation, a mantra-based meditation style, where people recite a phrase to themselves as a form of meditation, and
The Health Enhancement Program, where people learn about healthy lifestyle habits like sleep hygiene, stress reduction, and time management
We think that programs run virtually and outside of our overworked healthcare system can reach more people who can't easily access in-person care.
When I'm not working on the trial, I spend most of the workday writing about depression and chronic pain and supporting other exciting projects the team is working on. I recently wrote a systematic review of systematic reviews, which is basically a big summary of summaries that some people call an umbrella review.
I'm also the unofficial designer on the Subject Matter team, which is a little ironic since I'm mildly colourblind and see the world differently than the other 90% of the world (thankfully, I have the team to double check my colour choices). I love to use my interest in art and visual design to make science both accessible and also nice to look at.
Do you like the look and feel of the Subject Matter website? I worked closely with Abhi and the website developers to create it!
What did you do before joining Subject Matter?
I completed my HBSc at the University of Toronto in 2016 where I specialized in Neuroscience. I mostly took courses on mental health and psychology, and was also very involved in student life. I co-managed the Cat's Eye student lounge and pub, and also planned the 2015 Victoria College Orientation Week.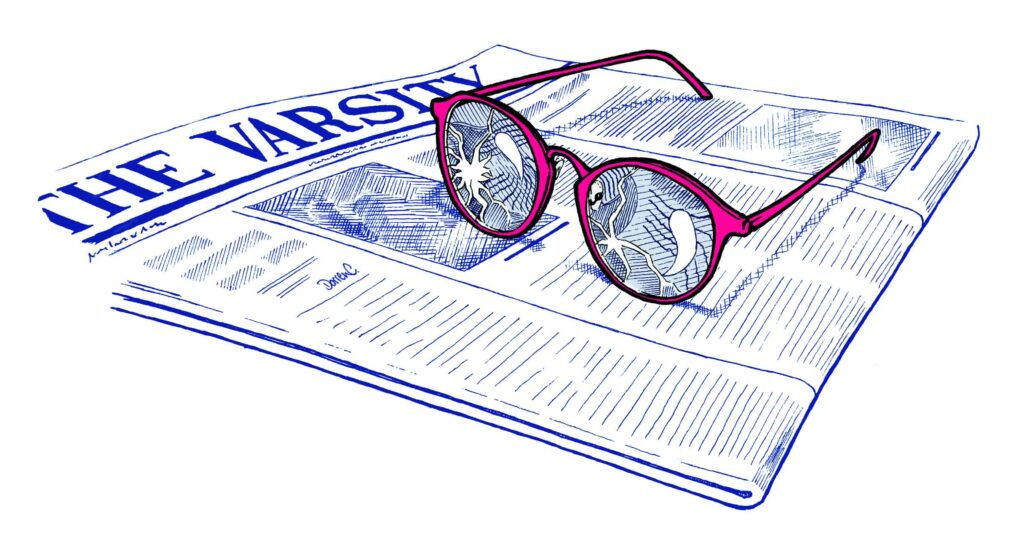 After undergrad I jumped straight into a Masters, still at the University of Toronto, in rehabilitation sciences. I completed the degree in 2018 with Dr. Nancy Salbach as my supervisor. My thesis looked at tests used for measuring walking ability in people after stroke. I stayed connected with my undergrad community as a residence don (assistant) at Victoria College, and also contributed as an illustrator, design editor, and copywriter for the university's Varsity Newspaper and Magazine.
After graduating, and right before I joined the Subject Matter Lab, I worked as a research assistant with the Heart and Stroke Foundation on the Stroke Mission Team. In this role, I connected with dozens of hospitals across the country, from Yellowknife all the way to Charlottetown, to get information about stroke services. I also helped update their website and reports.
What do you like to do outside of work?
I currently spend a lot of my free time knitting. I first learned to knit as a kid, but didn't seriously pick it up again until I was in the thick of my masters degree. Over the past several years, I've pretty much always had a project in-progress, and even started publishing my own patterns recently.
I also rock climb regularly, specifically bouldering, where the walls are shorter and the floors are padded, so you don't need a rope! As a bonus, the sport also spares me from the wrist strain and injuries that can affect many knitters.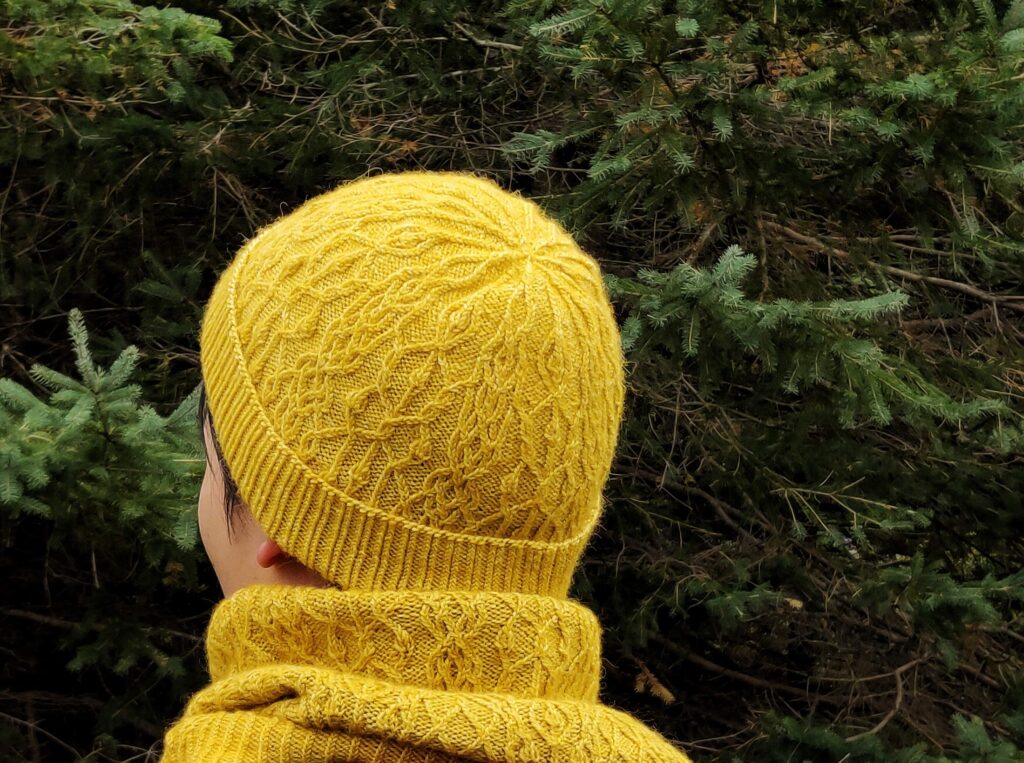 When things are open and the weather is better, I play in a volleyball league and garden.
I'm currently exploring the field of science communication because I want to help bridge the gap between science and the general population through writing and design. So far, I have written for the Royal Canadian Institute of Science and designed their most recent magazine cover, and also volunteer on the On Canada Project.
A few more questions, just for fun:
Would you describe yourself as a morning person or evening person? Why?
I am definitely not a morning person. I find that my brain works best in the afternoons and evenings, and before that, I rely on coffee to get me through the day.
What is the last book you read?
The Orchid Thief by Susan Orlean, an excellent non-fiction book by a journalist that investigated a horticulturist in South Florida that was keen on poaching and cloning the very rare Ghost Orchid (also the namesake of one of my favourite beers from Toronto's Bellwoods Brewery!). It was also adapted into a movie starring Nicolas Cage and Meryl Streep.
Do you collect anything?
Plants! Indoors, I have a collection of interesting tropicals and succulents, while outdoors I'm working on diversifying my garden with native plants and fruiting shrubs and annuals.